Sanctions against Russia must stay - Biden
Comments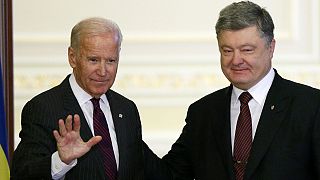 Joe Biden is calling for sanctions against Russia to stay in place.
The outgoing US Vice President has urged the world to stand up to its "coercion and aggression".
Biden said the G7 nations and the EU should life the sanctions only after Russia has fully implemented a peace deal on ending a separatist rebellion in eastern Ukraine.
Moscow should also return control of Crimea, Biden added.
Joe Biden calls on the international community to "stand strong as one against Russia's coercion and aggression" https://t.co/9FsjoUqbmm

—

POLITICO

Europe (@POLITICOEurope) January 16, 2017
"Together with our EU and G7 partners, we made a clear that sanctions remain in place until Russia fully emphasises, fully implements, its commitments under the Minsk agreement, and that the Crimea-related sanctions against Russia must remain in place until Russia returns full control to the people of Ukraine," Biden said in Kyiv.
When did Biden say this?
On his final visit to Kyiv as vice-president.
Why is Biden saying this now?
US President-elect Donald Trump has suggested ending the punitive measures under the terms of a new deal with Moscow.
What has Trump said?
He raised the prospect of offering to end the sanctions imposed over Russia's 2014 annexation of Crimea and its role in the rebellion, in return for a nuclear arms deal.
Observers say Trump's open admiration of Russian President Vladimir Putin, along with his stated desire to improve bilateral ties, have stoked fears in Kiev that US resolve to hold Russia to account over Ukraine could waver.
What has Ukraine said?
Ukrainian President Petro Poroshenko says Ukraine believes in good cooperation with the new US administration.
He urged sanctions to stay, without mentioning Trump's remarks on a deal with Russia.
The Ukrainian government has hired former Republican National Committee chairman Haley Barbour and his lobbying firm BGR Group to lobby US politicians and arrange meetings between US and Ukrainian officials.
How important is continuing Western support to Ukraine?
Vital, it is said.
The economy is slowly emerging from two years of recession after being badly hit by war in the east.
However, Kyiv remains dependent on external financial help.
The US has so far provided more than three billion dollars. It has said it could offer more, provided reform efforts continue.
What has the Kremlin said?
A Kremlin spokesman said it was too early to comment.
What they are saying
"The international community must continue to stand as one against Russian coercion and aggression," Biden said, standing alongside Ukrainian President Petro Poroshenko.
"There is concern in Kyiv about how the new relationship will develop. It will require building new bridges to the influencers, the gatekeepers and decision-makers," – Andy Hunder, head of the US Chamber of Commerce in Ukraine, says Kiev will have to put time and resources into dealing with the new US administration.