Turkish Cypriot leader calls on all parties in reunification talks to "remain engaged"
Comments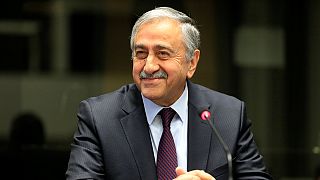 At the end of the reunification talks, our correspondent Sertaç Aktan spoke to the Turkish Cypriot leader Mustafa Akinci about his views on future progress.
Akinci told Euronews that all parties had to "remain engaged and contribute fully" to the process.
Sertaç Aktan, Euronews: "Mr. Akıncı, how do you evaluate Greece's position during the talks? And the fact they asked for more time? It seemed as if before the conference things were moving faster. Do you believe if Cypriots alone took part it would be easier and faster to find solutions?"
Mustafa Akinci, Turkish Cypriot leader: "Greece's involvement in this process has come a bit late. Turkey has been more involved and for a longer period. Therefore it takes more time for the Greeks to catch up with some of the developments.
"Maybe the economic difficulties they're having plays a role. Maybe it's the fact that Greek Cyprus is recognised as a separate state, and a more established separate identity, that makes their relations with Greece different than our relations with Turkey.
"Greece seems less involved and Turkey is more up to date and involved. Eventually what matters is that all guarantors play positive roles. You can see this also in their statements that they bound themselves to efforts to find a solution, and committed to supporting our efforts on these talks. We should focus on positive outcomes and positive scenarios without expecting any negativity from the guarantors so that we are able to eliminate possible incidents or misunderstandings."
Sertaç Aktan, Euronews: "Are you expecting a new land map from the Greek Cypriots or will you be preparing a new one? Will this map issue be a new thing that we will continue to see in every talks from now on? And I know you have an anecdote on this map issue, I would like to hear about that."
Mustafa Akinci: "Well, the moment Greek side entered the talks Anastasiadis was already carrying in his hand this rejection letter. As we understand, before even seeing our map proposal he prepared his rejection to it. Therefore nobody should expect dramatical changes on our map. "
Sertaç Aktan, Euronews: "You were saying that Britain is actually not that enthusiastic about being a guarantor state and more focused on their military bases. How much are the British and the EU contributing to finding a solution? What are your expectations for January 18 and onwards?"
Mustafa Akinci: "Britain could easily drop out from being a guarantor but there's no way it will give up its bases. They're making a poor contribution to our efforts. And the EU is engaged because Greek Cyprus is an EU member. The EU is just an observer and will stay that way as far as we can see. The real concerned parties are the two peoples living on the island."