US tanks and troops arrive in Poland
Comments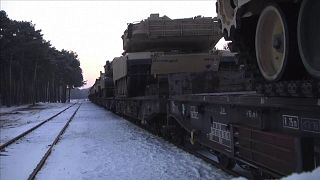 Hundreds of military vehicles and more than 3000 US troops have begun arriving in Poland.
The deployment by President Barack Obama is aimed at reassuring NATO allies in eastern Europe concerned about Russian agression.
The move by Washington is the biggest military reinforcement in Europe in decades and comes only days before the inauguration of Donald Trump whose committement to NATO remains uncertain.
Officials say the rotation of troops and added equipment will enhance deterrence capabilities in the region and add to the US ability to respond to potential crises.
The forces are expected to eventually fan out across several countries from Bulgaria to Estonia.
The US armoured brigade is also due to carry out military exercises in the Baltics.