US foreign policy - which way now?
Comments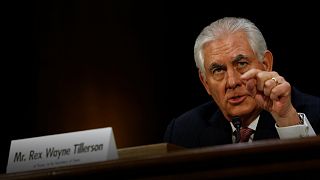 US Secretary of State nominee Rex Tillerson expressed views at odds with President-elect Donald Trump on key foreign policy issues during a hearing on Wednesday.
Key foreign policy issues like nuclear proliferation, trade deals, climate change and relations with Mexico were discussed.
The hearing, before the Senate Foreign Relations Committee, was interrupted sporadically by protesters.
67-year-old Tillerson is expected to be confirmed by the Republican-controlled Senate.
In a nine-hour Senate confirmation hearing, the former chief executive of oil company Exxon Mobil said:
he favours maintaining US sanctions against Russia for now

NATO

allies are right to be alarmed by Russia's aggression
it would not be acceptable for some IS allies to acquire nuclear weapons.
he does not see the need for a Muslim registry, saying he does not support targeting any group.
he does oppose the Trans Pacific Partnership (

TPP

) trade deal, which Trump has criticised. However, he acknowledged the negotiated deal may not serve all US interests.
he would recommend a "full review" of the 2015 nuclear deal the US and world powers agreed with Iran.
China should be denied access to islands it had built in the contested South China Sea
his approach to North Korea would be "long-term" and based on sanctions
he dodged a direct question on whether he believed climate change was caused by human activity
Mexico is a "long-standing neighbour and friend of this country"
Russia
Russia dominated much of the hearing due to concerns by Democrats and Republicans over Moscow's interference in the US presidential election, its 2014 annexation of Crimea and invovlement in the Syrian civil war.
Senators have expressed concern about Tillerson's ties with Russia while at Exxon Mobil.
Tillerson refused to call Russian President Vladimir Putin a war criminal.
When asked during hearing if Vladimir Putin is a "war criminal," Rex Tillerson says, "I would not use that term." https://t.co/ASoa31sGAJ

—

NBC

News (@NBCNews) January 11, 2017
He also left the door open to a possible change in US sanctions policy against Russia, saying he had not seen classified information on Russian meddling.
He blamed Russia's aggression toward Ukraine since 2011 on an "absence of American leadership" and said the US should have taken stronger actions to deter Russia.
Tillerson said it was a "fair assumption" that Putin was aware of Russian efforts to interfere in the US election.
He said he had not discussed Russia policy with Trump.
Rex Tillerson says he has not yet discussed Russia policy with Trump; SenatorMenendez</a> replies, "That&#39;s pretty amazing." <a href="https://t.co/wcAUXhPVcG">pic.twitter.com/wcAUXhPVcG</a></p>&mdash; ABC News Politics (ABCPolitics) January 11, 2017
Other issues
Questions soon moved to the threat posed by ISIL, China's behaviour in the South China Sea, human rights and Tillerson's ability to make a clean break from his career at Exxon Mobil to become the top diplomat in the US.
Will Tillerson be at loggerheads with Trump, then?
Not necessarily, he said.
Tillerson said everyone in Trump's Cabinet would have the chance to discuss issues "and the president will decide."
He described himself as "open and transparent".