Union leaders call for Africa Cup of Nations boycott
Comments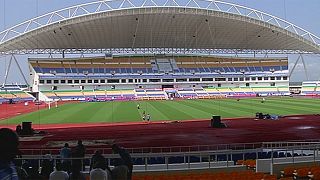 The leader of Gabon's main civil service union called for a boycott of the African Nations Cup (CAN) on Wednesday (January 12), saying the money the country is spending on hosting the tournament would be better spent on health and education.
Jean Remy Yama, the leader of the Dynamic Union, said Gabon holding the tournament for the second time in five years was "not justified" financially.
"The Dynamic Union calls for a boycott of the CAN for many reasons, but the first being that this second CAN in the span of only five years is not justified in financial terms because it is being held to the detriment of the necessary and essential infrastructures that were planned in the health and education sectors," Yama said.
The biennial tournament is made up of 16 teams playing at four venues across four host cities in the oil-rich central African country.
This year's tournament has been overshadowed by the aftermath of Gabon's disputed elections held last August between main opposition leader Jean Ping and President Ali Bongo, who retained power amid allegations of widespread fraud. The vote divided the political class and the country leading to a wave of riots.
The possibility of protests around the tournament, which will bring an international spotlight the country rarely enjoys, means the likelihood of stifling security as a backdrop to what is supposed to be a celebration of African soccer.
Despite the government's reassurance that the tournament will take place without incidents, there have been calls in recent months for strike action by the opposition, notably civil society leaders like Yama.