Gun disguised as iPhone alarms authorities
Comments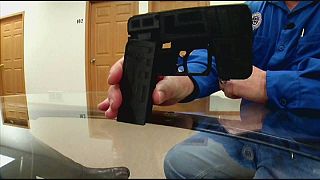 Belgian authorities have issued a warning to police officers throughout the country about the possible arrival of a handgun designed to look like a smart phone.
Designed in the United States by family company Ideal Conceal, the double barrelled .380 calibre pistol has the size of Samsung's Galaxy S7 phone but the shape of an iPhone.
Its creator, Kirk Kjellberg , said he wanted to create a phone that could hide in plain sight.
Kjellberg said the gun's purpose is defensive. In a video posted to his company's Facebook page and available on Youtube, Kjellberg responds to critiques he has received on social media, while explaining how the gun works.
He says he "highly doubts" the gun will be used in any criminal acts or as an aggressive weapon and said police departments in the United States have shown interest in the gun.
But on Tuesday Jan. 10, Belgian authorities circulated an alert to warn its officers they may encounter the subtly disguised weapon later this year.
A strong advocate of personal responsibility, Kjellberg says it is the gun owner's responsibility to keep the weapon away from children and to inform police if you are carrying a weapon.
The derringer-style pistol can fire two bullets before it has to be reloaded and can only fire, Kjellberg says, once it has been "deployed" out of its safety position.
Americans in the United States are allowed to carry permitted guns with them in numerous public places including restaurants.
Depending on the state, guns can even be legally carried onto university campuses , if the owner has a concealed handgun licence.
The idea for the Ideal Conceal weapon came about, Kjellberg said, when a young child noticed his concealed weapon at a restaurant.
The smartphone-disguised gun sells for $395 (370 euro) and as many 4,000 people have shown interest in buying one.