FBI and Justice department to be investigated over the Hillary e-mail affair
Comments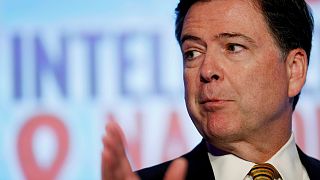 The US Department of Justice's own watchdog is to investigate the DOJ and the FBI's handling of the Hillary Clinton e-mail affair.
The Office of Inspector General says it will focus in part on decisions leading up to 
public statements by FBI Director James Comey regarding the Clinton investigation, to see if they were well founded and not based on what the office calls "improper considerations".
BREAKINGNEWS: Trump to FBI Director Comey: You're FIRED! #FBI#TrumpInaugural Justice dept. RThttps://t.co/zVNfribTg6

— Thomas Paine (@Thomas1774Paine) January 12, 2017
The role of FBI director James Comey, a lifelong Republican, and the timing of his public statements, especially his initial one opening the investigation before millions of early postal votes were cast, has been heavily criticised by Democrats and some independent observers.
I support the Inspector General's review of what happened at the #DOJ and #FBI during the Clinton investigation https://t.co/iVqjuukMkO

— Jason Chaffetz (@jasoninthehouse) January 12, 2017
Comey's pursuit of Clinton is being blamed by some for damaging her election campaign. The case was eventually dropped and no charges were made against the Democrat candidate.