Turkish soldiers appeal extradition from Greece
Comments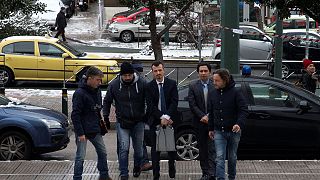 A prosecutor at Greece's Supreme Court has recommended rejecting an extradition request for two out of eight Turkish soldiers who fled their home country after a failed coup attempt in Ankara.
The helicopter crewmen deny any participation in the attempt to overthrow Turkish President Recep Tayyip Erdogan.
They are seeking asylum in Greece on claims their lives are in danger and they would not receive a fair trial if returned to Turkey.
Hearings for the remaining six will take place over the coming days, with a verdict expected on January 23.
An appeals court prosecutor challenged a ruling made after previous lower court hearings, which stated that five of the crewmen should not be extradited.
A lower court found the other three should be removed from Greece. They are appealing the decision.
Ankara has branded the group traitors and has demanded they be sent to Turkey.