Travel chaos across London as Underground staff strike
Comments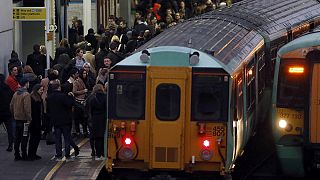 Millions of London underground passengers have been hit by travel chaos after unions called a 24-hour strike.
The industrial action is part of a long-running dispute over ticket office closures.
Unions say over 800 jobs have been axed and allege it has resulted in staff being abused by angry passengers queuing at ticket machines.
The city's mayor Sadiq Khan has criticised the walkout.
Aerial footage from the UK capital showed commuters struggling to get to work.
The disruption brought gridlock during the early Monday morning rush hour while Clapham Junction, one of the UK's busiest rail stations had to be evacuated due to overcrowding. It was closed for an hour before it later reopened.
dangreenleaf6</a> Hi Daniel, is this your video? Can news orgs use with credit to you?</p>&mdash; Kevin Donnellan (Kevind04) January 9, 2017
Transport for London bosses said most tube stations in the city's zone 1 were closed.
Victoria station – Closed – Due to strike action. All trains are not stopping.

— Victoria line (@victorialine) January 8, 2017
The strike is set to end at 6pm local time, though normal service is not expected to resume until Tuesday morning.