Remembering Portugal's 'father of democracy' Mario Soares 1924-2017
Comments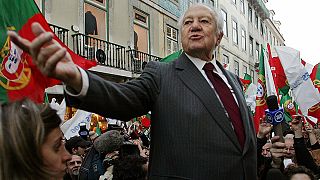 Mario Soares served as Portugal's Prime Minister, twice, and then as President. Repeatedly arrested for political activity and exiled during the dictatorship, early in his career as a lawyer he defended dissidents.
He was born in 1924 in Lisbon, in the time of the short-lived First Portuguese Republic, still a colonial power then.
Soares was one of the founders of the clandestine Socialist Action society, which would become the Portuguese Socialist Party.
Coinciding with the bloodless left-wing military coup in Lisbon, the 1974 Carnation Revolution, he returned from exile in France.
As foreign minister, briefly, in the new government he was a key figure in beginning negotiations for the independence of the colonies.
With the transition to democracy, in 1976 he was constitutionally elected prime minister.
Serving two separate terms, he was a driving force in convincing the Portuguese to join the European Economic Community, which it did in 1986, at the same time as Spain.
"Portugal is ready to contribute in a balanced way to this collective effort," Soares said.
He now became the first civilian head of state, and would be re-elected president in 1991.
Portugal became one of the countries to benefit the most from integration with the now European Union.
The centre-right Social Democratic Party, led by Anibal Cavaco Silva, governed the country for most of Soares' two terms as president.
When he was 81 years old, he was a candidate to continue in the post, but Cavaco Silva won.
Soares placed third, and in any case, the 1976 constitution only allowed more than two terms if they were non-consecutive.
He conceded defeat, saying he felt he had accomplished a mission.
By this time Portugal was in serious economic and financial trouble, and was forced to seek bailouts from the IMF and the EU.
In a 2011 interview with Euronews, Soares said: "We are likely to see major revolts within Europe itself; populations could refuse the way things are. This is not what Europe is supposed to be. Europe is something else, a space for dialogue, of social well-being and respect for others."
One of his nation's most distinguished statesmen, Mario Soares would go on to renounce the bailout austerity agreement which his party had negotiated and signed before it was voted out of power.