US top spy says Russian cyber attacks a 'major threat'
Comments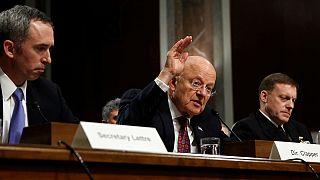 Russia's involvement in the US presidential elections was unprecedented according to America's top spy.
Testifying before the Senate Armed Services Committee, the Director of National Intelligence James Clapper said Moscow has a long history of interfering.
"This goes back to the 60s, the heyday of the Cold War. Funding that they would share or provide to candidates they supported, the use of disinformation.
But I don't think we've ever encountered a more aggressive or direct campaign to
interfere in our election process than we've seen in this case," said Clapper.
Despite dismissals from President-elect Donald Trump about the findings, the congressional hearing was told by intelligence officials Russian cyber attacks pose a "major threat" to the United States.
Intelligence officials describe Moscow as dangerous to a wide range of US interests because of its "highly-advanced offensive cyber program" and sophisticated capabilities.
Trump will be briefed by intelligence agency chiefs on Friday about hacks that allegedly targeted the Democratic Party during the election campaign.