"Unacceptable and unjustifiable" - outrage at the arrest of Ramush Haradinaj
Comments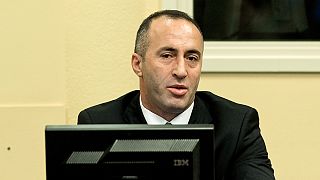 "Unacceptable and unjustifiable"
The president of Kosovo says the detention of one of the country's former prime ministers on suspicion of war crimes is "unacceptable and unjustifiable".
"The Kosovo Liberation Army waged a war for the freedom and independence of Kosovo," Hashim Thaci said.
Ramush Haradinaj, who is also a former guerilla fighter, was detained at an airport in eastern France on Wednesday.
An international arrest warrant had been issued by Serbia.
France arrests former #Kosovo PM Ramush Haradinaj sought by #Serbiahttps://t.co/n9rkGXtFUvpic.twitter.com/yR3QgY7hP5

— dwnews (@dwnews) January 5, 2017
What happens now?
A court hearing is scheduled in France on Thursday.
Officials say the court in Colmar will decide whether to keep Haradinaj in custody while it considers whether to approve his extradition to Serbia.
He could also be released under supervision.
The details
The 48-year-old was arrested when he arrived at the airport at Basel-Mulhouse in eastern France on a flight from Pristina.
"He was stopped by French authorities based on an arrest warrant issued by Serbia in 2004, which for us is unacceptable," the Kosovo Foreign Ministry said in a statement.
Haradinaj faces possible extradition to Serbia to face the charges.
Serbia
Haradinaj was cleared of war crimes charges in two lengthy trials by a UN war crimes tribunal.
However, Serbia accuses him of committing war crimes including kidnappings, torture and killings against ethnic Serb civilians when he was senior rebel commander in western Kosovo during the independence conflict of 1998-99.
"We want him on so many charges they can't be counted," said Serbian Prime Minister Aleksander Vucic, "from Glodjane to Lake Radonjic."
"No one has the right to undermine the decisions of an independent prosecution."
In June 2015, Haradinaj was arrested by police in Slovenia. He was released after two days following diplomatic pressure.
Kosovo
Haradinaj served briefly as prime minister of Kosovo in 2004 and 2005, while it was under the protection of the United Nations.
Kosovo declared independence in 2008.
The country's Interior Ministry says it is doing everything it can to secure Haradinaj's release.
Kosovo and France
The countries enjoy good diplomatic relations.
Paris is one of the staunchest supporters of Europe's youngest state.