Car bomb wreaks havoc in Syrian president's stronghold
Comments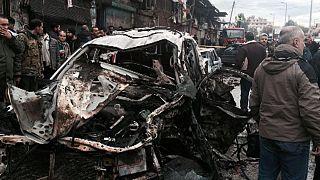 At least nine people have been killed and dozens more hurt by a car bomb in the Syrian government-held town of Jableh.
State media showed scores of mangled cars and shops damaged by the blast in a bustling commercial part of the town which lies in President Bashar al Assad's minority Alawite sect's heartland.
In May last year at least 150 people were killed and 200 others wounded when bombs hit the town and the Mediterranean coast city of Tartous that hosts Russian military bases.
Islamic State militants claimed the May attacks in a statement posted online saying the group had targeted "gatherings of Alawites".
No group has so far claimed responsibility for the latest attack.