Claims of mass New Year assaults on Indian women attributed to "western" copycats
Comments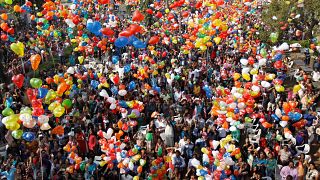 Police in the Indian city of Bengaluru say they have begun investigating reports of a sexual assault on a woman amid allegations that mass molestations took place throughout the city on New Year's Eve.
The move comes as video footage surfaced showing a women being attacked by two men as bystanders watched.
Warning: may be graphic to some viewers
Shocking CCTV Footage Of #BengaluruMolestation. Shameful That Ministers Are Blaming Western Culture & Girls For Thispic.twitter.com/1Ev3yek95B

— Sir Ravindra Jadeja (@SirJadeja) January 4, 2017
Thousands of people took to the streets of Bengaluru to celebrate the New Year until the festive crowd reportedly began targeting women in their midst in an incident that is reminiscent of last year's attacks in Germany.
"Some random guy tried to grope me while I was returning home from work and with so much ease he did as if he thought I'll not utter a word," wrote Chaitali Wasnik , a photographer living in Bengaluru, on facebook.
Reports of alleged mass molestations has galvanised the city. A hub for tech industries, Bengaluru has the reputation for being a safer for women to live in than the capital New Delhi.
The Indian Express newspaper re-branded Bengaluru as the "city of horrors" in an editorial published Wednesday .
The Bangalore Mirror called the alleged incident the city's "night of shame" publishing images captured by its photographers purporting to show women being attacked by crowds of men and seeking refuge among women police officers.
But G Parmeshwara, the minister for Karnataka state, in which Bengaluru is situated, attempted to dismiss the allegations attributing the incidents to men copying western behaviours.
"They tried to copy westerners, not only in their mindset but even in their dressing. So some disturbance, some girls are harassed," Parmeshwara said speaking to the ANI news agency. "These things happen."
Because of western culture? oh really?
What about the rapes & molestations during Holi?
#Bengalurumolestation

— புலி Arαşαη (@PuliArason) January 4, 2017
Parmeshwara elaborated further adding he could not "force people to dress like Kannadigas", relating to a traditional costume worn by women in the region, a comment that appears to shift blame away from the alleged perpetrators and place it firmly on the victims.
This! This is how women are treated & the Home Minister only has time to blame 'western culture'. Zero accountability! #Bengalurumolestationhttps://t.co/JZWcIhv1YE

— Trisha Shetty (@TrishaBShetty) January 4, 2017
Following his comment Lalitha Kumaramangalam, the head of India's National Commission for Women (NCW), demanded Parmeshwara resign from office and apologise.
"Such remarks from the Home Minister is unacceptable and regrettable", the NCW chief said . "I want to ask this Minister are Indian men so pathetic and weak that when they see a woman in Western clothes on a day of revelry, they get out of control?"
Police had deployed 1,600 officers the night of the New Year but were said to be overwhelmed by the tens of thousands of people who took to the streets to celebrate.
My Take: where is the evidence? #Bengalurushame#Bengalurumolestationhttps://t.co/tOJIROQwz0

— Ruben Banerjee (@Rubenbanerjee) January 3, 2017
Police say no women have yet come forward to register complaints.
"We had the situation under control," said Nagaraj the inspector at the Cubbon Park Police station. "However, if such incidents did take place that night, we urge people to come forward and file complaints."
A 2014 Amnesty International report on sexual violence in India found women often refrain from reporting attacks. Their findings indicated 30 percent of women who experience sexual violence tell someone about the incident.
But that number drops to 1 percent when reporting sexual violence to the police "due to concerns of security, social stigma and discrimination," Amnesty said .