Israeli PM denies corruption charges
Comments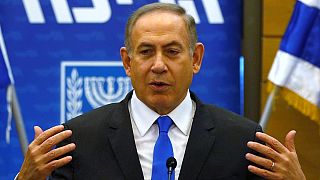 Once again, Israeli justice is questioning political figures in corruption scandals, this time the finger pointing at Prime Minister Benjamin Netanyahu.
...I'll say it once again: there will be nothing because there is nothing.

Prime Minister of Israel
Last night Netanyahu was questioned in a preliminary criminal investigation by the anti-fraud unit of the Israeli police.
Among the allegations against the Prime Minister are two charges of corruption, accusing him of having received illegal gifts from foreign and Israeli businessmen, valued at several tens of thousands of dollars.
Netanyahu rejects the accusations.
Prime Minister Benjamin Netanyahu: "I've said it before and I'll say it once again: there will be nothing because there is nothing. You will continue to release hot air balloons into the air and we will continue leading the state of Israel."
Last July Netanyahu was linked to French tycoon Arnaud Mimran, currently serving eight years in prison for a fraud charge. Mimran claimed he donated $200,000 to the 2009 election campaign. Prime Minister Benjamin Netanyahu admits to accepting $40,000 from Mimran, but in 2001.
In November, Israel's Attorney General ordered an investigation into Netanyahu's role in the purchase of three German submarines by the Ministry of Defense.
Since then Israeli TV revealed the conflict that David Shimron, Netanyahu's personal lawyer, was on the board of a subsidiary of German automaker ThyssenKrupp.
And last May, Sara Netanyahu, the wife of the Prime Minister, was the subject of legal proceedings, suspected of having spent taxpayers' money on garden furniture.
Netanyahu's predecessor, Ehud Olmert, started serving an 18-month prison sentence in February 2016 after receiving bribes when he was mayor of Jerusalem between 1993 and 2003.
Former Prime Minister Ariel Sharon was questioned while in office in 2003 and 2004 over allegations of bribery and corruption involving himself and his two sons.
His son Omri was sentenced to nine months in prison for illegal financing of the Likud party in 2006.
Corruption convictions:
Several ministers have already been condemned for corruption cases.
Arye Deri, the Minister of Interior, served three years in prison.
Avraham Hirshson, a former finance minister, was sentenced to over five years in 2009.
Shlomo Benizri, former Minister of Labour, spent four years behind bars.
Some in Israel, even those once close to Netanyahu, are eager to oust the Prime Minister from power.
Israeli law states that any member of a government against which there is an indictment for corruption must resign.