German inflation rises sharply, unemployment falls
Comments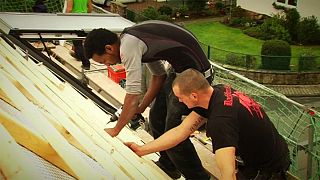 Inflation in Germany has jumped due to costlier energy and food.
This jump in inflation is a signal to exit from the ECB's expansive monetary policy

Ifo Institute for Economic Research,
Consumer prices in the eurozone's biggest economy were up by 1.7 percent in December from the same month a year earlier.
That is close to the European Central Bank's inflation target of at or just below 2 percent.
The reading was much higher than November's increase of 0.7 percent.
German inflation soars to 1.7% – its highest level since July 2013 https://t.co/yg8OVBzXnDpic.twitter.com/NZy2L6KFLB

— fastFT (@fastFT) January 3, 2017
'Stop the stimulus'
The news set off a chorus of calls for the ECB to start winding down its stimulus measures, which include ultra low interest rates and bond buying through money printing to push cash into the economy.
"This jump in inflation is a signal to exit from the ECB's expansive monetary policy," the head of the Ifo Institute for Economic Research, Clemens Fuest, told the Frankfurter Allgemeine Zeitung. "If these figures are confirmed for the eurozone as a whole (on Wednesday), the ECB should end the bond buy programme in March 2017."
Politicians from Chancellor Angela Merkel's conservative CDU/CSU bloc echoed Fuest's call.
"The policy of zero interest rates, coupled with rising inflation, is devastating for German savers," Bavarian Finance Minister Markus Soeder told Handelsblatt business daily.
However rising prices could be a negative for the German economy because they reduce people's purchasing power. It has been relying on private consumption, a booming construction sector and government spending for growth.
Ifo urges end to ECB bond buys if eurozone inflation hits German level https://t.co/aAXe9WKLXppic.twitter.com/XKSjEfBpIw

— Reuters UK (@ReutersUK) January 3, 2017
More people in work
At the same time the inflation figures were released we learned unemployment in Germany had fallen more than expected in December – keeping the jobless rate at a record low of six percent of the workforce, on a seasonally adjusted basis.
Frank-Juergen Weise, the head of the Federal Labour Office announced, the government's headline numbers, which are not adjust for seasonal factors such as weather. He told reporters: "The average unemployment for the whole of 2016 was 2,691,000. The last time unemployment was this low was 1991."
He added that demand for workers continues to be very high and the German government is optimistic about the labour market in 2017 because domestic consumption remains strong.
#Unemployment rate in #Germany remained at its lowest level since German #unification in 1990 https://t.co/vu3RzvVZlB

—

DEUTSCHLAND

.de (@de_deutschland) January 3, 2017