Elite Iraqi forces advance in Mosul, fighting street-to-street against ISIL
Comments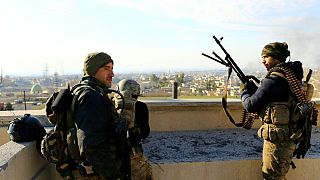 Gunfire and clashes have been witnessed from up close in eastern Mosul, as Iraqi forces advanced further in their bid to oust militants from the self-styled Islamic State.
Forces seen fighting street-to-street on Tuesday were from the elite Counter Terrorism Service.
Progress has slowed up, partly due to the ongoing presence of many civilians – some perhaps choosing to stay inside the northern city, others trapped.
Iraqi media reported that fighter jets destroyed ISIL facilities in Nineveh on Tuesday.
Coalition forces have also reportedly advanced in other eastern districts including Karama and al-Quds.
The military says dozens of militants were killed.
Iraqi forces have retaken a quarter of the city since the offensive began 10 weeks ago.
The campaign is the biggest ground operation in the country since the US-led invasion in 2003 that topped Saddam Hussein.
More than 114,000 civilians have been displaced from Mosul so far, according to the United Nations. But well over a million are thought to be still in the city.