Iraqi forces advance against ISIL in Mosul but suffer losses in south
Comments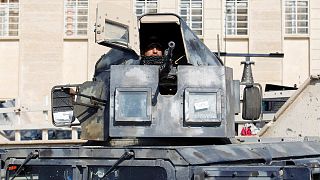 The Iraqi army says it has made gradual progress in eastern Mosul as it tries to wrestle the city from the control of the so-called Islamic State.
Civilians have continued to flee one district which was retaken by the military.
The fourth day of the renewed push against the militants saw advances on the eastern and southeastern fronts.
The operation has removed ISIL fighters from several areas despite strong resistance.
"On the fourth day, our troops were able to liberate the Intisar neighbourhood as well as the Saha neighbourhood. They are now clearing the Salam neighbourhood, they are clashing with the enemy. Large numbers of our enemy were killed yesterday," said a federal police officer, Major General Raed Chaker Jawdat.
But while government forces in northern Iraq focus on ousting ISIL from its last major stronghold in the country, to the south came another reminder of the militants' capacity to strike.
Seven policemen were killed near Najaf as gunmen and a suicide car bomber attacked a police checkpoint.
It came a day after bombs killed nearly 30 people in Baghdad.