Serb wall in Kosovo to be brought down by government
Comments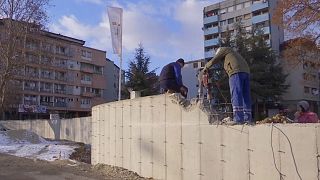 The parliament of Kosovo has voted to demolish a concrete wall, deemed to have been erected as an act of defiance by the small Serb community in the northern city of Mitrovica.
The ethnic minority Serbs began constructing the wall earlier this month, calling it a technical support barrier against a landslide.
The government however, was not convinced.
Edita Tahiri, Kosovo Minister for dialogue with Serbia said: "This wall was intended to destabilise the situation in Kosovo, and we will not let Serbia's intentions come to fruition."
She also said that a grenade was thrown at a government office in northern Mitrovica on Wednesday night, but it did not explode.
The wall was built along the river Ibar, which bisects Mitrovica – the city with the largest Serbian population in Kosovo.
Kosovo declared independence from Serbia in 2008, although Belgrade does not recognise this.
The war in the Albanian majority region ended in 1999, putting to an end the deportations and ethnic cleansing carried out under then-Serb leader Slobodan Milosevic.