Pinturault matches French record of wins set by ski legend Killy
Comments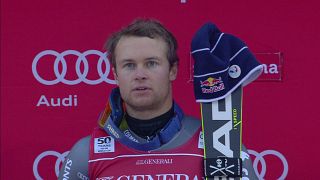 There has been no rest for alpine skiing World Cup competitors over the festive period.
All the drama and action between Christmas and New Year's took place in Italy and Santa Caterina where Kjetil Jansrud won a super-G, a downhill was cancelled due to strong winds and on Thursday Alexis Pinturault won a combined race.
After Jansrud continued his super-G domination with his third victory from the opening three races in the discipline on Tuesday it was Pinturault who took over the top step of a World Cup podium on Thursday.
The French ace won the first Alpine Combined race of the season, a race that combines the times of one super-G run and one slalom run.
Pinturalt was third fastest after the super-G, which knocked out nearly one-third of the field.
The 25-year old, who won two of the three events last season and the 2016 discipline globe, then lived up to his favourite's tag by setting the fastest time in the slalom to celebrate a milestone victory.
His 18th career World Cup win matched Jean-Claude Killy for the French record of victories.
It was also Pinturault's third success of the new campaign after winning giant slaloms in Solden and Val d'Isere.
Five-time reigning overall world cup champion and current standing's leader Marcel Hirscher was second on the day.
The Austrian trailed his French rival by 0.34 seconds.
It was Hirscher's 8th podium finish of the season and his runners-up finish extended his lead in the general classification over Jansrud to 231 points heading into the new year.
Aleksander Aamodt Kilde rounded out the alpine combined podium.
The Norwegian lead the field after the super-G but couldn't match the pace of his two rivals in the slalom and had to settle for a decent third place.
It was his second top-three finish of the season after placing second in a super-g in Val Gardena earlier this month.
AlexPinturault</a> is on fire & takes the AC at <a href="https://twitter.com/SantaCaterinaDH">SantaCaterinaDH.MarcelHirscher</a> 2nd +0.34 and <a href="https://twitter.com/AleksanderKilde">AleksanderKilde 3rd +1.13 pic.twitter.com/RTNb7Gp8xO

—

FIS

Alpine (@fisalpine) December 29, 2016
Analyze this
One City Event, one super-G, two slaloms, six alpine combined and eight giant-slaloms makes 18 successes on the World Cup circuit for Alexis Pinturault, his record is stunning and matches that of legend, Jean-Claude Killy.
On his latest achievement Pinturault said: ''It's a very nice comparison, of course that makes me very happy. Jean-Claude Killy is the French skier – he is the benchmark.
''We always talk about him when talking about alpine skiing. We also think of course, of Luc Alphand. It is a real thrill to have matched him in terms of victories.
''He did stop competitive skiing at the age of 25, that is my age right now so I should really stop at the end of this season or just continue on a little longer. For sure I hope I have a few more good years ahead of me, and why not try and surpass him. That means things are going very well.''
#sportingtherapyGREATEST "To win you have to risk loss." Jean-Claude Killy https://t.co/AsaUsjp8hlpic.twitter.com/ZkomBIdq1L

— Sporting Therapy (@sportingtherapy) December 8, 2016
Skiing past
The 65th edition of the Four Hills Tournament – the major event of the ski jumping season – kicks off on Friday with the first stop in Oberstdorf. So far in the history of the competition only one man has completed the Grand slam.
That man was Sven Hannawald.
The German high-flyer leapt into the history books in 2002 when on the 50th anniversary of the prestigious event he won all four stops in Oberstdorf, Garmisch-Partenkirchen, Innsbruck and Bischofshofen.
The then 27-year old was appropriately wearing the number 50 bib and completed his historic achievement on home snow in Bischofshofen where he landed a massive first jump of 139 metres, which shattered his own hill record, and then followed that up with a leap of 131.5 metres.
He would retire from Ski jumping in 2005 citing the stressesl nature of the sport.