Russia says Syrian government and opposition in talks
Comments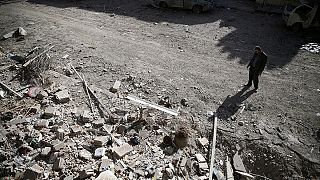 The Syrian army has intensified its aerial bombing of rebel-held positions close to Damascus.
The offensive began last week and aims to recapture a strategic area from where most of the city's water is sourced.
Located some 20 kilometres north-west of the capital, the Barada Valley also lies on a key road to the Lebanese border, which is used as a vital supply line for the Iranian-backed Hezbollah group, which supports President Bashar al Assad.
The fighting near Damascus came as Russia's Foreign Minister said the Syrian government and opposition had met ahead of possible peace talks in Kazakhstan.
But Sergei Lavrov did not say where the discussions were taking place or which opposition groups were taking part.
In Damascus, a new organisation calling itself "The Syrian Democratic Front" and claiming to represent several wings of Syria's political opposition, also said it was prepared to negotiate.
Mahoud Mourei, Secretary General of The Syrian Democratic Front said:"We are ready for peace talks in Geneva and Astana, and are doing well with these countries. Now we are preparing for new peace talks, regardless of where the talks will take place -Astana, Moscow, Geneva or Damascus."
Despite such claims, the High Negotiations Committee, a separate body which represents groups fighting President Assad, including those under the banner of the Free Syrian Army, has insisted it has no knowledge of any such negotiations between the opposition and government.