First trial related to Turkey's failed coup begins near Istanbul
Comments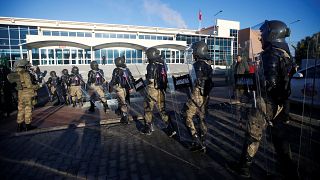 The first trial related to Turkey's failed coup d'etat in July has opened near Istanbul.
Twenty nine police officers charged with disobeying orders have appeared in court.
Prosecutors are calling for life in prison for most of the officers, accused of failing to follow orders to protect the presidential palace.
It is not clear if the officers will plead guilty or not guilty.
One lawyer for some of the victims, Orhan Cagri Bekar, told reporters: "Everyone involved in the coup attempt must have a fair trial.
"Those who are not guilty must be separated. Those who are guilty must be sentenced to the heaviest punishment because this is a betrayal against the country."
Some 240 people died when rebel soldiers attempted to overthrow the government on July the 15th.
More than 100,000 people including military, police and civil servants have been sacked or suspended from their jobs in a much-criticised government crackdown that followed the coup.
More than 40,000 people were arrested in widespread raids and many more trials are expected.
New court buildings are expected to be built to cope with the high number of court hearings being scheduled.
The first trial is being held among tight security in Silivri, west of Istanbul. TV cameras have been banned from the proceedings.
Turkish authorities blame the US-based cleric Fethullah Gulen for being behind the coup attempt.
But the former ally of President Erdogan denies involvement.