2016 in review: Hope and mourning in Cuba
Comments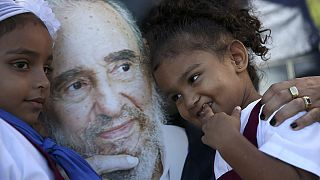 It was a historic visit, one that few had imagined just months earlier.
The embargo is going to end. When? I can't be entirely sure

US President
On March 20, 2016, Barack Obama landed at José Martí airport in Havana, Cuba. And so he became the first US president to set foot on the Communist-ruled island since Calvin Coolidge in 1928 – 88 years ago.
Cuban President Raúl Castro did not greet Obama right away. They met the next morning. Obama wanted that to happen before the end of his second mandate. In 2014, he had announced a deal to restore full diplomatic ties between the former Cold War enemies, ending five decades of estrangement.
Barack Obama and Raúl Castro begin historic meeting in Havana #CubaVisithttps://t.co/Skyrhn1HNxpic.twitter.com/bLCrCGUVL6

— El País in English (@elpaisinenglish) March 21, 2016
During his visit, the US president did push Cuba on the issue of human rights: "As we do wherever we go around the world, I made it clear that the United States will continue to speak up on behalf of democracy, including the right of the Cuban people to decide their own future. We will speak out on behalf of universal human rights, including freedom of speech, and assembly and religion," he said.
Castro meanwhile called for the United States to drop its trade embargo: "The blockade is the biggest obstacle to our economic development and to the well-being of the Cuban people," he said. Obama replied: "The embargo is going to end. When? I can't be entirely sure, but I believe it will end and the path that we are on will continue beyond my administration."
Obama used his executive powers to ease the restrictions that weighed on the Castro regime for 54 years but failed to bring it down. Throwing into question this new state of play is the election of Donald Trump. The Republican wants more guarantees from Cuba in terms of market access and human rights.
"All the concessions that Barack Obama has granted the Castro regime were done through executive order, which means the next president can reverse them, and that I will do unless the Castro regime meets our demands," Trump told supporters in Miami in September.
Cuba's Fidel Castro dies at 90 https://t.co/sAGvJjQ76Ipic.twitter.com/t402KwLAQd

— euronews (@euronews) November 26, 2016
Death of a Revolutionary
Fidel Castro Ruz died on November 25, 2016, at 0329 GMT.
That night in Miami, Cuban exiles celebrated the news. Some had waited for that moment for decades.
But on Havana's Revolution Square, where Fidel Castro once gave hours-long speeches, tens of thousands of Cubans queued to pay their respects to their former leader.
"I came from a very poor family, and all that we have today is because of him," said Neyla Carpio, a local.
#Cuba's political allies have joined tens of thousands of people in central Havana to honour the late revolutionary leader #FidelCastropic.twitter.com/xgdELQUjk9

— euronews (@euronews) November 30, 2016
Fidel Castro's remains were cremated in accordance with his wishes. Cubans only had a photo – no embalmed body – to pay tribute to.
His death leaves a huge void in the country he led from 1959 to 2006. "May the world know and those who believe Fidel's death will change our country: there will never, never be a Cuba without Fidel," said Havana resident Maritza Seguil.
During four days, Castro's remains retraced in reverse the Comandante's route to power in Havana from Santiago de Cuba, where the revolution started.
His ashes were laid to rest during a private ceremony – next to those of 19th century independence hero Jose Marti.
Fidel Castro's ashes buried in private ceremony in Santiago, Cuba, following 9 days of intense mourning. https://t.co/PPHogCrhG8

— The Associated Press (@AP) December 4, 2016