Christmas Eve crowds flock to Bethlehem
Comments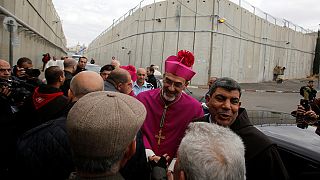 Christian pilgrims from around the world have been gathering this Christmas Eve in Bethlehem – revered as the birthplace of Jesus.
Rev. Pierbattista Pizzaballa, the acting Latin Patriarch of Jerusalem, will lead Midnight Mass.
Before that, crowds in the main Manger Square have been enjoying traditional marching band parades.
Israeli-Palestinian violence in the occupied West Bank has driven tourists away in the past but a relative calm this year means Bethlehem really can boast again that there is no room at the inn.
"It is amazing. I came to see the birthplace of our Lord Saviour Jesus Christ," said US tourist Tracy Wade.
"I am a Christian so this is a very special time and special place for me. I love the fact that I am able to go in here and visit the place where Christ was born, here in Bethlehem. I feel very fortunate and blessed."
Crowds gather in Bethlehem ahead of Christmas midnight mass https://t.co/d05iTYqbbc#Bethlehem

— AFP news agency (@AFP) 24 décembre 2016
Tourism is a major source of revenue for the Palestinian economy – and provides livelihoods for about 5,000 families in Bethlehem, which has some 5,000 rooms in 46 hotels.
The main attractions in Bethlehem are the 4th-century Church of the Nativity, built over a grotto where Christian tradition says Jesus was born, and the Christmas tree in Manger Square, where choirs sing carols during the holiday period.
While the security situation is more relaxed now, Israeli roadblocks and a six-metre Israeli-built concrete separation barrier snaking through the landscape are still part of the Bethlehem vista.
with Reuters