Putin announces Syria peace talks in Kazakh capital as residents return to Aleppo
Comments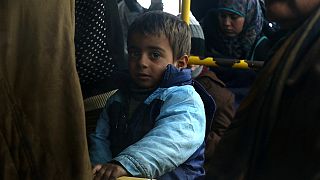 Russia, Iran, Turkey and President Bashar al-Assad have all agreed to meet in Kazakhstan's capital Astana to try to end the conflict in Syria, President Vladimir Putin has said.
The Russian leader's announcement came as some residents started moving back into eastern Aleppo on Friday after the government took full control of the war-battered city.
Their return marks the end of at least one brutal chapter in Syria's near six-year war.
When asked whether he still had trust in his country, one man returning to Aleppo said: "No, certainly not. Neither in one side nor in the other. It's too much (complicated) to go into details."
Although the Syrian government has vowed to rebuild, the scale of the destruction inflicted on Eastern Aleppo is staggering.
Some 33,000 homes are reckoned to have been destroyed, while the city's historic citadel has been left in tatters.
According to Syrian state TV, army experts have started dismantling explosives and booby-traps planted by rebels in the city before they were evacuated earlier this week.