''Let it be an arms race'', says President-elect Donald Trump
Comments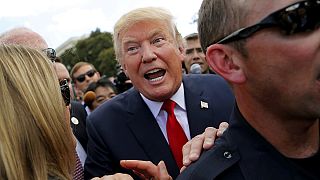 Donald Trump has reportedly said ''let it be an arms race,'' the day after he called for the US to strengthen and expand its nuclear capability.
The President-elect is said to have made the comment in an interview with MSNBC which had sought clarification over Thursday's tweet in which he threatened a major ramping up of the US's atomic arsenal.
The United States must greatly strengthen and expand its nuclear capability until such time as the world comes to its senses regarding nukes

— Donald J. Trump (@realDonaldTrump) December 22, 2016
Earlier, Trump's transition team released a letter they say was sent from the Kremlin.
The soon to be president said ''a very nice letter from Vladimir Putin, his thoughts are so correct.
The Russian leader, who had also called on Thursday for his country to boost its own atomic weapons capability, said earlier he saw nothing unusual in Trump's pledge to increase America's nuclear forces.