ISIL-claimed bomb attacks outside Mosul kill at least 23
Comments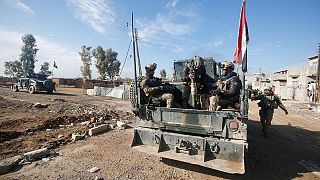 The group calling itself Islamic State said it was behind three suicide bombings that killed at least 23 people and wounded dozens more outside the Iraqi city of Mosul on Thursday.
The military said three car bombs ripped through a market in Kokjali, an eastern suburb that Iraqi authorities said they had retaken from the jihadists almost two months ago.
The West Irbil Emergency Hospital, an hour away, receives about 100 injured civilians and soldiers each day, said doctor Ansam Abdul Saheb.
"We face many difficulties because they come without their relatives, most of them are children, they're crying and it's hard to communicate with them, and sometimes we need to get medicines from outside the hospital," she said.
Iraq: ISIS Attacking Civilians in Mosul Retreat https://t.co/g5gS7Ipvxy

— Human Rights Watch (@hrw) December 21, 2016
Human rights groups are sounding the alarm on the heavy toll suffered by civilians since a US-backed offensive to retake Mosul was launched two months ago.
ISIL has waged deadly counter-attacks, and propaganda videos posted online on Thursday purportedly showed the group preparing cars for suicide bombing missions near the frontline.
Four Iraqi aid workers and at least seven civilians were killed by mortar fire this week during aid distribution in Mosul, the United Nations said on Thursday.
"People waiting for aid are already vulnerable and need help. They should be protected, not attacked," said Lise Grande, U.N. humanitarian coordinator for Iraq.