Poland's opposition blockades parliament as Brussels voices concern over rule of law
Comments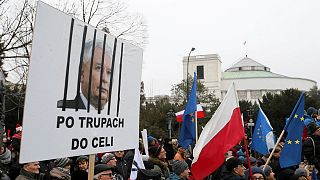 Opposition MPs in Poland have vowed to continue their blockade of parliament in a bid to force a re-run of a disputed budget vote.
The stand-off was sparked last week by protests inside the chamber over government plans to curb media freedom in the national assembly. A sit-in saw the vote for the 2017 budget diverted into a side room and approved without the opposition present, something it now insists was illegal.
Earlier the EU Commission voiced its own concerns about justice reform inside Poland.
"We do believe there is a persistent problem with the rule of law. I think this is a substantial challenge for the rule of law in Poland. And the rule of law is the basis upon which our whole European structure is built, " EU Commission First Vice-President Frans Timmermans said.
Brussels has threatened sanctions if Poland doesn't scrap planned changes to its highest court. But Warsaw seems unconcerned. On Wednesday, a new head of the constitutional tribunal was nominated after the outgoing post holder criticised the government's justice reforms.
Since coming to power in October 2015 the ruling Law and Justice party has come under fire at home and abroad for what critics say are undemocratic moves designed to tighten its grip on power.
They say the planned amendments to the court would put Poland on the road to autocracy by trampling over the rule of law and democracy.