Russia, Iran and Turkey push for Syria peace plan without US or UN
Comments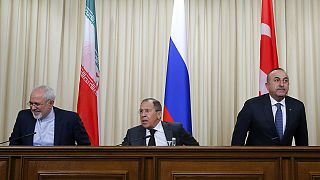 Russia, Iran and Turkey have said they are ready to help broker a peace deal for Syria.
After talks in Moscow, the three countries' foreign ministers expressed confidence they could revive the stalled peace process. They also plan to try to expand a ceasefire.
The United States was notably absent from the meeting.
Russia's Foreign Minister Sergey Lavrov said: "Iran, Russian and Turkey express their readiness to act in favour and become guarantors of the agreement that is being prepared and negotiated at the moment by the Syrian government and opposition. The three call on all the other countries that have influence on the situation on the ground to do the same."
His Iranian counterpart Mohammad Javad Zarif added: "We need to find a political solution, which supports the principles of respect of the territory's sovereignty and of Syria's national unity. So we have to accept the reality, which is that the only solution to ending the war is a political solution."
Turkish complications
Ankara's position is complicated as it supports some insurgents trying to bring down Syria's President Bashir al Assad. The Turkish Foreign Minister Mevlüt Çavuşoğlu's position is that all sides should cease fire but the talks cannot involve what he called terrorist groups like Islamic State and the former Al Qaeda group Fatah al-Sham. He also spoke of Lebanon's Hezbollah which backs the Assad government, implying Damascus should use its influence.
Russia's Sergey Lavrov pointed out that some groups operating in Syria "were invited by the government of Bashar al Assad".
Mohammad Javad Zarif said Iran "respects" Turkey's stance, but he added that "other countries don't accept" it.
The next step is a new series of Syrian peace negotiations without the involvement of the United States or the United Nations to be held in Astana, the capital of Kazakhstan, a close Russian ally.
"Dead end"
Lavrov informed US Secretary of State John Kerry in a telephone call about the results of talks in Moscow, the Russian foreign ministry said.
The Russian foreign ministry also said in its statement that UN-brokered negotiations in Geneva on the Syrian crisis had hit a dead end due to ultimatums from the Syrian opposition in exile.
The US said that it was not worried about being left out of the discussion. A State Department spokesman said it welcomed any solutions that "lead to a reduction in bloodshed… whether or not we're at the table".
The move underlines the growing strength of Moscow's links with Tehran and Ankara and reflects President Vladimir Putin's desire to cement his country's growing influence in the Middle East and more widely.
It also shows how fed up Russia is with what it sees as long and pointless talks with the Obama administration over Syria. Foreign Minister Lavrov last week dismissed those talks as "fruitless sitting around".
Russian Defence Minister Sergei Shoigu, who held parallel talks with his Iranian and Turkish opposite numbers, said afterwards: "All previous attempts by the United States and its partners to agree on coordinated actions were doomed to failure. None of them wielded real influence over the situation on the ground."