Portugal's Euro-winning coach honoured in Athens
Comments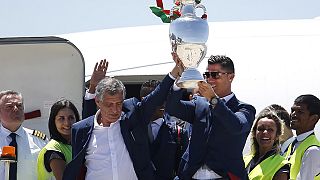 Portugal's Euro 2016-winning coach Fernando Santos was honored this week by the Greek Association of Sports Journalists.
The Former Greece national coach received the award during the 63rd Annual Festival of Greek Athletes in Athens for his contribution to football in the country as well as his European championship winning exploits in France this summer.
Euronews caught up with the 62-year old at the event.
Euronews: ''Fernando Santos, 2016 has really been a dream year for you. Is football a good way for the people of Portugal, Greece and other southern European countries to escape from the dire economic problems they are enduring?''
Fernando Santos: "A victory like this is always good for people in order to recover their self-esteem. It happens in the case of football as it happened during the Olympic Games, here in Greece. It helps people with their self confidence. It makes them believe in the future, especially during moments of crisis like these. Because when things are ok, time flies, but when things get tough people need to believe."
Euronews: "So, will we overcome this crisis?"
Santos: "Our two peoples have a lot of strength, a lot of history and they will overcome this crisis."
Santos is one of the three candidates for FIFA coach of the year in January with Leicester City's Claudio Ranieri and Real Madrid's Zinedine Zidane.