'Wrath of Euphrates Forces' in battle for Raqqa
Comments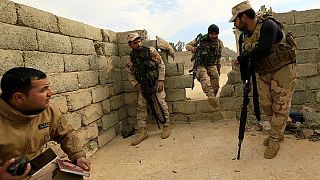 On October 17th a coalition of some 100,000 combatants made up of the Iraqi army,Kurdish Peshmerga, Hashid Shaabi, Sunni tribal groups and special forces launched a major offensive on Mosul, the ISIL stronghold in Iraq.
To defeat ISIL in strategic Mosul is a major objective for the Iraqi authorities.
It was here in 2014 that the group proclaimed its caliphate.
The battle plan is to encircle the city.
Shi'ite groups are deployed to the west to block any ISIL escape to Raqqa in Syria.
The Shi'ite Hashid Shaabi are positioned near Tal Afar, further away from Mosul, which is a Sunni city.
The stranglehold also prevents civilians from fleeing Mosul. Therefore the coalition has adopted an advance slowly strategy to keep casualties to a minimum.
The fighting is at close quarters, street by street, house by house.
Surrounded and running out of options the jihadists have increased the number of suicide attacks using the extensive network of underground tunnels to reach then hit targets.
#Iraq's special forces and army have liberated 70% of the eastern half of #Mosul. Around 30 neighbourhoods retaken. pic.twitter.com/04zWCXpt06

— Haidar Sumeri (@IraqiSecurity) December 11, 2016
To counter the threat Iraqi forces use bulldozers to create makeshift barricades.
Mosul is a city of 1.8 million inhabitants, of which at least 1 million remain trapped by the violence.
The army requested they sit tight until the each neighbourhood is cleared of jihadists.
Eight weeks after the onslaught began the UN claims 90,000 have left their homes.
With advent of winter the people here are deprived of staples and feeling the pressure.
Hussam Abdulhadi lives in Mosul:"There is not enough humanitarian aid for all the people. If people were not hungry, they would not run. People are hungry. They would not do this if they were not hungry. People are tired."
As temperatures fall, we distribute high thermal blankets to women &girls in two camps Near Eastern Mosul https://t.co/mY3ZN3yhSJreliefweb</a> <a href="https://t.co/ojT2KohQJ1">pic.twitter.com/ojT2KohQJ1</a></p>&mdash; UN Women (UN_Women) December 11, 2016
Before the assault on Mosul government troops flushed ISIL out of the oil town of Qayara.
US says 2,000 ISIS fighters killed, gravely wounded in Iraq: QAYARAAIRBASE, Iraq >> Iraqi and U.S.-led coalition… https://t.co/phfi7Noh4hpic.twitter.com/TXDZQaDcri

— Los Angeles Best Of (@LosAngelesBests) December 11, 2016
As ISIL fled fighters torched 13 oil wells.
In November after two years under ISIL control Nimrud on the eastern bank of the Tigris was retaken.
Update on destruction at Nimrud thanks to Layla Salih of the Iraqi State Board of Antiquities & Heritage https://t.co/IW7WDNYjsMpic.twitter.com/gxSv2Vv3JC

— Zoe McQuinn (@zoemcquinn) December 13, 2016
In a matter of months under ISIL Nimrud, an ancient Assyrian city, is 70 percent rubble.
On the other side of the border in Syria is Palmyra a city first documented is the early second millennium.
On December 10th ISIL recaptured Palmyra in a shock move as Russian forces and Assad's army pounded Aleppo.
Palmyre sits in the middle of a desert surrounded by mountains and difficult to defend allowing a retreating ISIL to launch a surprise attack.
Repeat assaults on #Palmyra. Everytime #ISIS moves on #Syria, #Washington steps back and ISIS uses US weapons. https://t.co/4l2FNqTL35pic.twitter.com/yujwx5LteI

— tim anderson (@timand2037) December 11, 2016
Raqqa, the de-facto capital of ISIL, has been targeted since early November by a coalition of US military,Syrian Democratic Forces and Arab-Kurds.
#Al_Raqqa ||
Warth of the Euphrates Forces managed in the past 24 hours to advance 8 km, and liberated 6 villages.#Wrath_Of_Euphrates#Kurdpic.twitter.com/LtCX4GgpDx

— Raqqa Campaign (@raqqa1campaign) December 11, 2016
The mission known as the "The Wrath of the Euphrates"
is underway.