Japanese transport app offers 'drunk mode' to partygoers
Comments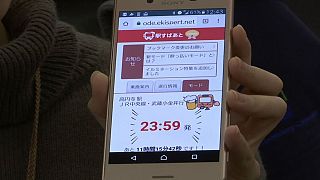 A Japan-based application development company has come up with a novel way to help its customers during the festive party season.
Ekispert, makers of a smartphone transport app for Tokyo, has come up with a 'drunk mode' evolution that can be added to existing versions of their software, making it easier to use for people who have had a drink.
The new update includes features that make the app easier to use, such as a larger font size, an alarm 30 minutes before the last train and a handy figure, who happens to be holding a beer, drawing attention to the time.
Chief engineer at Ekispert, Mai Aisaka, commented: "Of course, you need to pay attention to your health (when drinking) and you also need to catch the last train home.
Otherwise, you might have regrets the next day. So we hope our service will help people not to end up in that situation, having those regrets."