Verdict expected in Catania shipwreck trial
Comments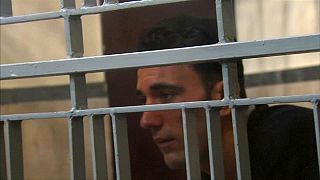 A Sicilian court in Catania will on Tuesday deliver its verdict on one of the Mediterranean's worst ever shipwrecks.
UNHCR: Weekend shipwreck deadliest ever in Mediterranean – CATANIA, Sicily (AP) — The United Nations refugee agenc… http://t.co/E3cA3OtQvb

— Spartan Echo (@Spartan_Echo) April 21, 2015
Tunisian Mohammed Ali Malek, is accused of having captained the small wooden fishing boat, which collided with a Portuguese merchant ship that had come to its aid. Syrian Mahmud Mikhit is accused of having assisted him.
Few survivors
Just 28 of the 800 mainly African and Bangladeshi passengers survived when the vessel carrying them sunk off the coast of Italy in April 2015. The majority of the migrants, including women and children, had been locked below deck.
In a trial widely perceived as a test case, prosecutors are seeking 18 years for Ali Malek, who is charged with causing a sea disaster, multiple counts of manslaughter, and with people smuggling. Mahmud Bikhit, who is up against the single charge of people smuggling, faces a potential 6 years.
Both of the accused deny any wrongdoing.