Esma Redzepova, the Queen of Romany music dies at 73.
Comments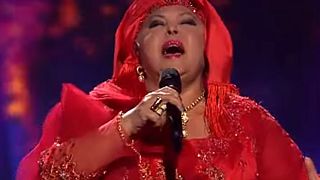 Esma Redzepova, Macedonia's "Queen" of Romany music has died at the age of 73.
Redzepova was one of the first singers to perform in the Romany language. Her career spanned more than five decades.
Sad to learn about the passing of Esma Redžepova, who participated in Eurovision</a> 2013. Our condolences to her loved ones and fans</p>&mdash; Jon Ola Sand (jonolasand) December 11, 2016
In 1976, she was acclaimed as the queen of Romany music during a world festival of gypsy music held in India.
She was born in Skopje in 1943 and started singing as a school girl. At the age of 15, in 1958, Redzepova recorded her first album: Zoshto Si Me Majko Rodila. Two years later she recorded and released one of her greatest singles Chaje Shukarije.
The song would be used in 2006 to accompany the opening credits to Sacha Baron Cohen's film Borat.
Redzepova additionally in 2013, represented Macedonia during the 2013 Eurovision contest.
Over the course of her musical career Redzepova would record 500 songs and had two platinum and eight gold albums.
Outspoken for the rights of Romany women, she battled racism and prejudice, becoming a prominent political activist known for her humanitarian efforts.
In the 1970s and 80s, Redzepova reportedly fostered 47 children and often performed at charitable events.
Her funeral
will take place Monday Dec. 12 at 13h00, where she will be buried at the Butel cemetary in Skopje.