Wilders to appeal discrimination conviction
Comments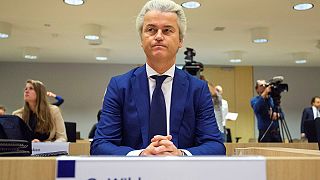 No sentence or fine imposed
Wilders says he will appeal
Potential implications for March 15 election
Wilders to appeal discrimination conviction
Geert Wilders says he will appeal his conviction for discrimination.
He has accused the court in the Netherlands of bias.
Dutch Court Finds Geert Wilders Guilty of Incitement to Discrimination, Insulting Moroccan Immigrants https://t.co/TBpZQ6816y#trendingpic.twitter.com/9OJZ8JYXBu

— PJ Media (@PJMedia_com) December 9, 2016
What happened?
Judges have found the Dutch lawmaker guilty of discrimination against Moroccans.
However, the ruling carries no punishment.
What is the background?
The charges against Wilders stem from a 2014 campaign rally.
He led a group of supporters in a chant of "Fewer! Fewer! Fewer! (Moroccans in the Netherlands)".
Wilders concluded: "We are going to take care of that."
Reading the decision of a three-judge panel, presiding Judge Hendrik Steenhuis said "no one is above the law".
Wilders had planned the inflammatory remarks beforehand and insulted the entire group of people of Moroccan origin in the Netherlands, he added.
Is this the first time Wilders has been convicted for his outspoken views?
Yes.
However, his anti-Islam comments have forced him to live under 24-hour protection for a decade.
Potential political fallout
Dutch Prime Minister Mark Rutte says neither he nor his party are prepared to govern in coalition with Wilders unless he retracts his comments.
Wilders' far-right Freedom Party is ahead of Rutte's second-placed liberal VVD.
Excluding the party from coalition talks after March's elections may open the door to an unwieldy, multi-party government.
Nederlandse premier Mark Rutte wil niet met Wilders regeren https://t.co/4YWytzrWzYpic.twitter.com/VJGB5MReOF

— De Standaard (@destandaard) December 9, 2016