Migrants break in to Spain's Ceuta enclave in North Africa
Comments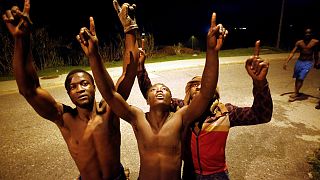 Around 400 African migrants are estimated to have made it onto Spanish soil after scaling a barbed-wire fence into Spain's North African enclave of Ceuta, which borders Morocco.
One group euphorically shouted "España", some even performing cartwheels as they were filmed by local TV cameras immediately after arriving.
It's said to be the biggest break-in to the territory in over a decade.
The government said most were taken to a temporary migrant detention centre to have their legal status clarified.
Others who tried to climb the six-metre high fence were filmed perched on top. Several hundred who attempted to cross didn't make it.
By late morning an estimated 20 percent of those who did succeed in entering had not been located. The migrants who managed to breach the barrier did so using wire cutters or sharp objects in at least two sections of the fence.
Most of them are without papers and thought to come from sub-Saharan African. They were given food at the temporary centre, where a scramble suggested many were indeed hungry.
The Red Cross says it treated over 100 migrants. Some 25 people were taken to hospital with light injuries.
In theory they have the right to claim asylum, but Amnesty International has accused the authorities of illegally sending people back, giving them no chance to do so.
Spain's two North African enclaves of Ceuta and Melilla are often used as entry points into Europe. Some migrants try to swim along the coastline, or to cross by boat from Morocco into southern Spain – though tighter controls by both countries have resulted in fewer people attempting this route.
#UPDATE 400 migrants storm border at Spain's Ceuta, in search of asylum https://t.co/ySSVAKMl0Upic.twitter.com/nMwvBB22Z3

—

AFP

news agency (@AFP) December 9, 2016