1.3m 'will attend' girl's 15th birthday party in Mexico
Comments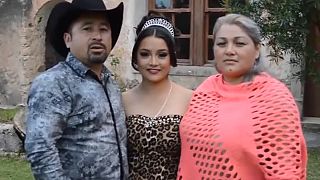 A girl's 15th birthday is a major milestone in Mexico and for Rubi Ibarra, her quinceañera party, to celebrate her coming of age, looks set to be something she'll never forget.
A video posted on Facebook in which her father, Crescencio Ibarra, invited "everyone" to her birthday party on December 26 has gone viral, with 1.3 million people on the attendance list.
The reason for its popularity remains a mystery, after it was re-posted by a local event photographer on his Facebook page, usually announcing local events in the Ibarra's rural town of La Joya, San Luis Potosi state, in northern Mexico.
It was then quickly re-shared multiple times on YouTube and spread from there.
The party promises to be quite the event, with Crescencio saying that three local bands will play at the gathering and a meal will be offered to attendees.
There will also be a horse race where the winner stands to win 10,000 pesos (€461).
Such is the event's popularity that one Mexican airline, Interjet, has even announced 30-percent discounts for anyone flying in for the event.
The original video has also inspired parodies from the likes of actor Gael García Bernal, in which a middle-aged man with stubble plays the part of Rubi.
The wealth of memes inspired by the event, published under the hashtag #XvdeRubi, have only served to fuel its online popularity.
Who's tryna split a 30 hour uber with me to #XVdeRubipic.twitter.com/vlyfx8dEGn

— Eloy (@eloy587) December 6, 2016
Las tías se preparan para hacer el mole y que este listo para los #XvdeRubipic.twitter.com/Go6Qyt9lXp

— Jesús Rodríguez (@jprimo70) December 3, 2016
esto es…

demasiado…

TE ODIORUBIPOR QUÉ NO SOY TU pic.twitter.com/uFStzvDvQI

— kanye en su jugo (@hectorguilleng) December 9, 2016
With only "four to ten policemen in town", San Luis Potosí State congressman, Roberto Segovia, has said he wants Red Cross and state civil defence personnel to be present during the event, according to international media.
"We are contacting the family and the police forces and emergency agencies to provide security in the area," Segovia commented.
How do the family behind the now-famous video feel about its popularity?
Rubi's mother Anaelda Garcia told a local television station: "My husband made the invitation, but to people who live in neighbouring regions. I don't know who copied it, but they posted it and it blew up, as if it were an invitation to the entire world."
As for the birthday girl, her father's actions could have landed her a career in television, with Televisa, one of Mexico's biggest channels, inviting her on the show and offering her a place in their 'performer's school'.
Another high-profile television show, TV Azteca, also had Rubi as a guest and threw her a premature birthday party.
#RubíEnHoypic.twitter.com/AJ0YH3Rvby

— Programa Hoy (@programa_hoy) 8 de diciembre de 2016