Dakota Access Pipeline: a potentially short-lived victory for eco-protesters
Comments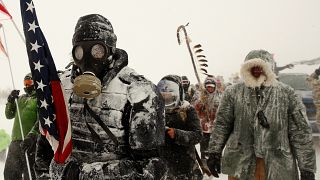 Native American tribesmen and environmental activists opposing the construction of a crude oil pipeline in North Dakota may have scored a significant victory in temporarily halting the Dakota Access Pipeline, but it could be short-lived.
Opponents of the pipeline project are worried a Donald Trump administration could overturn the US Army Corps of Engineers' Monday instruction to Energy Transfer Partners (ETP) to study potential alternative routes for the pipeline.
The Dakota Access Pipeline, being built by ETP, is a 1,885km crude oil delivery pipeline running from Bakken, North Dakota to Patoka, Illinois. If completed, it will transport as many as 570,000 barrels of oil per day.
Energy Transfer Partners intended the pipeline to go underneath Lake Oahe less than a kilometre upstream from a Native American reservation.
Protesters, calling themselves "Water Protectors" have opposed the project at Standing Rock, North Dakota, arguing the pipeline infringes on Native American lands and endangers the water supply of the Standing Rock Sioux Tribe.
The months-long protest drew support from all corners of the United States and American society, including army veterans and celebrities, and the impasse prompted the US Army Corps of Engineers, a US federal agency tasked with civil engineering projects, to temporarily halt the €3.5 billion project.
But on Dec. 1, President-elect Donald Trump met with Republican North Dakota Senator John Hoeven and indicated his support for the pipeline project.
"Today, Mr. Trump expressed his support for the Dakota Access Pipeline, which has met or exceeded all environmental standards set forth by four states and the Army Corps of Engineers," Hoeven said in a statement. "It is important to know that the new administration will work to help us grow and diversify our energy economy and build the energy infrastructure necessary to move it from where it is produced to where it is needed."
President-elect Trump has promised to "unleash" the United States' energy potential leading to speculation he will also overturn a President Obama-era ban on another key pipeline project, the Keystone XL.
But Trump's intervention in the issue of the Dakota Access Pipeline has revealed potential conflicts of interests.
Trump's 2016 federal disclosure forms indicate Trump owned as much as €46,000 worth of stocks in Texas-based ETP as well as owning shares of Phillips 66 which has a one-quarter stake in the pipeline project.
Energy Transfer Partners additionally donated more than $100,000 (€93,000) to Trump's presidential campaign.
Trump's transition team said on Tuesday the President-elect had sold in June all of his ownership stakes in companies and a Trump spokesman earlier this month said Trump's support for the pipeline project "has nothing to do with his personal investments and everything to do with promoting policies that benefit all Americans."
Jason Miller, a Trump spokesperson, said Trump will review the Dakota Access Pipeline project once he is inaugurated.
"With regard to the Dakota Access Pipeline, that's something that we support construction of and we'll review the full situation when we're in the White House and make the appropriate determination at that time," said Jason Miller, a spokesman for Mr. Trump.
The battle over the route of the Dakota Access Pipeline is far from over.
Energy Transfer Partners has not backed down and in a statement was quick to reiterate the decision by the US Army Corps of Engineers not to grant a key permit does not signal the end of the project.
"The White House's directive today to the Corps for further delay is just the latest in a series of overt and transparent political actions by an administration which has abandoned the rule of law in favour of currying favour with a narrow and extreme political constituency," the company said.
Indeed, the federal agency has only temporarily halted the project in order to study alternative routes.
And it appears as if ETP expects Donald Trump to side on their behalf.
In an interview with NBC in November , Energy Transfer Partners CEO Kelcy Warren said "I'm 100 percent sure that the pipeline will be approved by a Trump administration."