Austria's asylum seeker crackdown plan 'part of bid to deter migrants'
Comments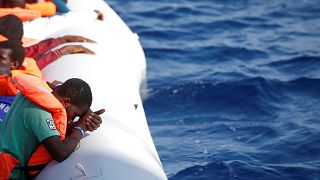 Austria's government has agreed on a draft law that will fine or jail asylum seekers who lie about their identities to authorities treating their claims.
The law would impose fines as high as 5,000 euros, or force asylum claimants to spend three weeks in jail, if caught trying to speed up or influence their asylum claims by assuming false identities.
The law, proposed by the conservative People's Party (OVP), which is in a coalition government with Austria's ruling Social Democrats, would also impose fines of between 5,000 and 15,000 euros, or six weeks in jail, on asylum seekers found staying in Austria despite being ordered to leave the country.
Harald Mahrer, an OVP junior economy minister, said the law is designed to reinforce Austria's rule of law.
"Certainly these (measures) have in part a signalling effect," Mahrer said, ​when asked if the law was designed to scare off migrants. "What kind of rule of law would we have in the republic if we said we do not punish these things?"
Austria's Green party criticised the newly-proposed law, calling for the costs of accepting asylum seekers to be spread among EU countries.
"That way you can stop the nationalist competition for who can scare off asylum seekers the most," said Alev Korun of the Greens.
The law still needs to be approved by Austria's parliament.
The draft law comes after Austria's government recently tightened its asylum policies.
The country has seen rising anti-immigrant sentiment and increasing attacks against asylum centres.
One centre was burned to the ground in Altenfelden, near to the border with the Czech Republic and Germany.
Other European countries like Denmark and Sweden also toughened asylum laws after EU leaders failed to agree on a mechanism for distributing migrants among themselves.
During the height of Europe's migrant crisis in 2015, Austria accepted 90,000 asylum seekers. This year the government said it would accept 37,500 applicants.
In February 2016, Austria enforced a policy of accepting 80 refugees a day, in defiance of the European Commission, which stated at the time the move was illegal under international law and contravened the Geneva Convention on refugees.
In April 2016, Austria's parliament passed a controversial bill that would allow the government to declare a state of emergency and deny asylum claims at its border.
The anti-immigrant Freedom Party, whose presidential candidate Norbert Hofer lost Sunday's presidential election run-off, has been leading in the polls and is believed to be well-placed to make gains in the country's next parliamentary elections.