No mercy for South Korea's embattled president
Comments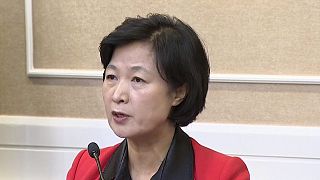 South Korea's opposition parties have vowed to push ahead with attempts to impeach President Park Geun-hye.
They have rejected her offer to resign amid a growing influence-peddling scandal.
They have also called on members of her Saenuri Party to join them.
A dramatic move
In a dramatic move that shifted the burden of resolving the crisis engulfing her presidency, Park asked parliament on Tuesday to decide how and when she should quit.
South Korea's Park says she is willing to step down – and that what will happen next is up to parliament: https://t.co/MitH0FNilqpic.twitter.com/HKtC78Pvpm

— Reuters Top News (@Reuters) November 29, 2016
What was the opposition's response?
The leaders of the three opposition parties dismissed it as a ploy to buy time and avoid impeachment.
They said they would not negotiate with Park's party on her proposal to step down.
Together, the opposition parties hold 165 of the single-chamber parliament's 300 seats and can initiate an impeachment motion.
What are the accusations?
Park is alleged by prosecutors to have colluded with a friend, Choi Soon-sil, to enable her to wield improper influence in government affairs and in fundraising by two foundations set up to back her initiatives.
She has immunity in the case as long as she remains in office.
She has denied any wrongdoing but has acknowledged carelessness in her ties with Choi.
South Korea's embattled president offers to relinquish power https://t.co/yczHFRUGY6

— Reuters Top News (@Reuters) November 29, 2016
The opposition say Park missed the chance to step down voluntarily and the public want nothing short of her immediate removal from office.
The practicalities
The opposition need a minimum of 28 votes from Saenuri to pass the impeachment bill.
This will immediately suspend Park's powers while the Constitutional Court takes up to six months to decide if the motion is valid.
Legal experts say the court is more likely to take as little as two months.
If Park is unseated, a new election must be held in 60 days to pick a successor for a full five-year term.
The prime minister, normally a figurehead position, would serve as acting head of state in the interim.
Saenuri Party divided
The Saenuri Party has been in disarray over the crisis and remains divided.
Party floor leader Chung Jin-suk has said it would be best to set a deadline of April the 30th for Park to step down.
However, a breakaway faction of more than 40 members is demanding she leave sooner.
Hwang Young-cheul, a member of the breakaway group, says it is willing to negotiate an exit plan for Park.
However, if there is no agreement by a week on Friday, he was warned they will back the opposition's impeachment motion.
The business
The crisis has started to weigh on consumer confidence.
It has also dealt a blow to the "chaebol" conglomerates, accused of kowtowing to Park and an aide to contribute funds to her foundations.
Finance Minister Yoo Il-ho says the economy faces greater downside risks due to the crisis.
Recovery is showing signs of slowing because of uncertainties in South Korea and abroad.
VIDEO: Massive protests demanding resignation of South Korea's PM pic.twitter.com/8K3w5oryL0

— The Int'l Spectator (@intlspectator) November 26, 2016
What they are saying
"The only way left to go is impeachment under the constitution," – head of the Democratic Party, Choo Mi-ae said at a meeting with the leaders of the two other opposition parties.
"Impeachment is the only way," – leader of the opposition People's Party, Park Jie-won said a motion for a vote would be tabled this Friday or next.