Mexico's Popocatepetl Volcano spews ash
Comments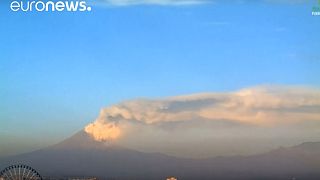 Mexico's majestic Popocatepetl volcano erupted early on Tuesday (November 29), in a dramatic show of ash, water vapour and gas.
The dramatic eruption at 05:58 am local time (11:58 GMT) spewed ash over the nearby city of Puebla, causing the local airport to halt operations from dawn until 2:00 pm local time (20:00 GMT), said Mexico's disaster relief body CENAPRED in a news release.
According to CENAPRED, the ash cloud rose 500 metres (1,640 feet) over the crater towards the north- northwest. A yellow phase two alert has been declared for the area. It is the second-highest warning on the centre's seven-step scale.
Authorities are encouraging residents to take preventative measures.