Argentina's Davis Cup winners return to hero's welcome
Comments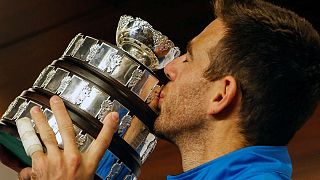 Argentina's triumphant Davis Cup team returned home to a hero's welcome on Tuesday.
After being greeted at the airport by hundreds of fans the team then attended an official meeting with President Mauricio Macri, who gave each of them a medal for their historic achievement.
Juan Martin Del Potro, who has struggled with injury over the past few years, proved instrumental in the nation's first Davis Cup title and said: "This cup is the one that will let me sleep peacefully and that's why this is the most important year of my life emotionally and also from a sporting aspect. My wrist is still not 100 per cent, I do not have a coach, I do not have a physical trainer, but here I have great partners and great human beings who got the best out of me."
Argentina beat Croatia in Zagreb to win the title for a first time having played four previous finals without success.
They became only the third team to come from 2-1 down to lift the trophy since the World Group Davis Cup format was introduced in 1981.