South Korea sees largest protest in weeks of demos against president Park Geun-hye
Comments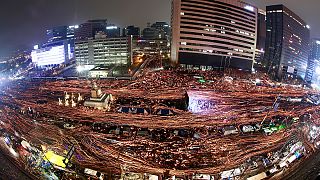 A flood of candles in Seoul gives a stunning visual to the peaceful protest and show the scale of anger in South Korea over the corruption scandal surrounding the country's embattled leader.
South Korea has seen what is estimated to be its biggest protest in five weeks of demonstrations calling for the president to step down.
According to organisers up to 1.5 million people took to the streets of Seoul, while police put the number in the hundreds of thousands.
"It has become apparent that Park Geun-hye, as a criminal, is neither qualified nor capable of being a president. She needs to step down immediately," one protest organiser told a reporter.
Part protest, part street party: Organizers claim 1.3 mln have flooded downtown #Seoul#SouthKorea to pressure prez #박근혜 to resign. pic.twitter.com/tvCW8IWxop

— Jean H. Lee (@newsjean) November 26, 2016
Leader Park Geun-hye is accused of allowing a friend to meddle in state affairs and commit extortion. She has publicly apologised twice over the affair, but refuses to resign.
She is now facing a possible impeachment. The National Assembly is to vote on a bill by December 9.