Latin Americans mourn "legendary" Fidel Castro
Comments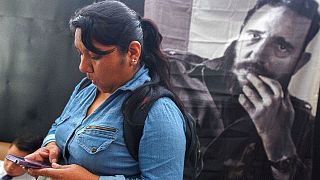 For many Latin Americans Fidel Castro was a hero, a David who took on the Goliath of US imperialism and won.
The fight of Fidel has been for the people of the world

Bolivia's President
In Bolivia, where the socialist government is a close ally of Cuba, the media lamented the death of "El Commandante"
President Evo Morales led a minute of silence before summing up Castro's legacy:
"Fidel Castro is a great teacher in principles and values, a teacher of revolutionaries, his fight has not only been for the Cuban people nor for the people of Latin America. The fight of Fidel has been for the people of the world that fought for freedom."
In Ecuador there was a similar affection for Castro and an equal sadness at his passing. In his weekly television show Ecuador's president Rafael Correa spoke of Castro's "dignity."
"The commander fulfilled his mission, opened roads, roads that have inspired much of what we desire for Latin America – more just, more equal but also more dignified and more sovereign. And in that, Cuba is an expert in setting an example in sovereignty and dignity," he said.
And in Venezuela, until recently Cuba's biggest financial backer and perhaps its closest ally, President Nicolas Maduro called Fidel Castro "a legend."
"Our thoughts go out to the noble people of Cuba, heroic, valiant Cuba, that in all these years were filled with an identity of rebellion, of 'Cubanism' of love of one's self, and of humanity. He was a legend, Commander Fidel Castro."
Colombia's president Juan Manuel Santos tweeted: "Fidel Castro recognised at the end of his days that the armed fight was not the way. And so he helped end the Colombian conflict."
Castro may go down in history for helping mediate an end to Latin America longest-running civil war, in fact he died just hours after Colombia signed an historic peace agreement.
Whilst he supported the FARC rebels who Marxist leanings were similar to his own, he encouraged them to come to the negotiation table and bring about peace.
Another legend in Latin America, this time from football, spoke of the debt he owed Castro in recovering from his addiction after spending four years living in Cuba.
After hearing that Castro died Diego Maradonna said he "cried a lot because he was like my second father. I wanted to thank him all my life because he talked to me a lot about drugs, a lot about my recovery, and encouraged me. And I did it."