'The borders of Russia do not end' says Putin during awards ceremony
Comments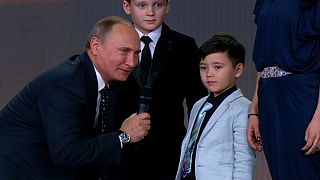 Russian President Vladimir Putin yesterday, November 24, attended the award ceremony for the Russian Geographic Society in Moscow.
Putin was introduced to two young boys who showed off an impressive aptitude for geography, despite their young ages, by answering questions put to them by the president.
After nine-year-old Miroslav Askirko correctly defined where the Russian border ended, Putin smiled commenting: "The borders of Russia do not end."
The leader went on to add "that was a joke," as the audience laughed and applauded.