Too good to be true: Corona chief did not leave villagers millions
Comments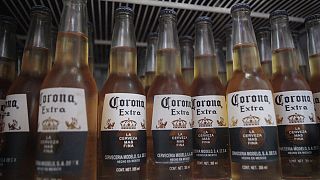 This article has been updated from the original
It appears that Antonio Fernández, a Corona beer tycoon in Mexico, did not actually leave millions to people in his home town of Castile-Leon in Spain.
In the media this week several UK and international news outlets, including The Telegraph, The Independent and Time shared the story that Fernández, who passed away earlier this year, had given almost €170 million to be shared amongst the 80 residents of his home town of Cerezales del Condado.
Euronews too carried the error until we quickly learned it was not accurate. Fernández had indeed given millions — but to his family.
The Independent later updated their article to say that although Fernández had given generously to Castile-Leon in the form of donations, the people living there had not directly received money.
Speaking to the Local Spain, Lucia Alaejos from the Fundación Cerezales Antonino y Cinia flatly denied Fernández made the town's villagers millionaires.
"It's simply not true, unfortunately… It seems someone got the wrong end of the stick and the story has just grown and grown," said Alaejos. "It's got completely out of hand."
Fernández, said Alaejos, was one of 13 siblings whose family originates from the small town in north-western Spain.
Fernández in 1949 moved to Mexico and began working for Grupo Modelo, which brews Corona beer among many others. By 1971 Fernández was the company's CEO until 1997. He later became the company's chairman until 2005.
He is credited with having made Corona beer, but Corona was first made in 1925. He did, however, create "Corona Extra,": http://www.diariodeleon.es/noticias/leon/antonino-deja-regalo-millonario-leon_1105514.html which would grow to be the most popular Mexican beer export in the world.
Fernández died at the age of 98 in August. A committed man to his family, his will designates the more than 50 descendants from his 12 siblings as the recipients of his fortune.
His will is likely to have more than a few of his nephews and nieces rich. His surviving family often returns to the Cerezales del Condado to visit, and in so doing, they help support the small town's economy.
The beer tycoon was also philanthropist and generously donated funds to his home town. In 2008, using Fernández's own funds, Cerezales del Condado opened its cultural centre which remains open today. He also invested in infrastructure to ensure each and every home in the village in 2006 received water, and he donated to refurbish the town square and churches in the area.
It is unclear exactly how the news of Fernández's family inheritance was misinterpreted, but last October, Spanish regional newspaper Diario de Leon published a story called "Antonino leaves a millionaire gift in Leon" while clearly mentioning Fernández's inheritance was meant for his family.
Spanish national daily newspaper El País wrote about the inheritance in an article entitled "The rain of millions that the Coronita tycoon left in León."
Both newspapers correctly reported the story, but their headlines could have mislead international media keen to share a story that, in hind sight, was too good to be true.