Torrential rains cause widespread flooding in northern Italy
Comments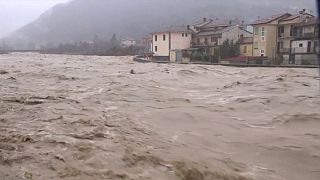 Little more than two weeks after Italian scientists warned that climate change had put much of the country at risk of flooding, parts of the northwest have been inundated by heavy rain.
Torrential downpours caused the Piedmont region's Tanaro river to burst its banks, prompting local officials to ask the government to declare a state of emergency.
Two days of continual rain has had a similar impact on Turin, where the Po river also flooded.
The region of Liguria has also been hit hard, and a red alert warning for bad weather issued. Meteorologists have warned of possible gale force winds sweeping in over the coast.
In Ventimiglia, near the border with France, five migrants were reportedly swept away after a swell hit the bridge they were living under. Four were saved, but a Nigerian man is still missing, presumed drowned.
There have been no other reports of casualties.