Magnitude 7.0 earthquake shakes Central America
Comments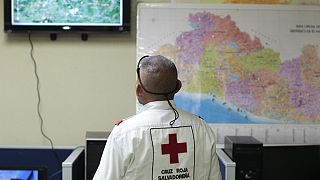 A strong, magnitude 7.0 earthquake has shaken the coast of Central America. The US Geological Survey initially rated the 'quake at 7.2, then later downsized it.
It struck around 149 kilometres south-southwest of Puerto Triunfo in El Salvador, at a depth of 33 kilometres, according to the US Geological Survey. Several countries are thought to have felt the tremor.
The US Pacific Tsunami Warning Centre initially advised that 'hazardous tsunami waves are possible within 300 kilometres of the epicentre. El Salvador urged residents living on its Pacific coastline to move away from ocean regions.
It has since announced the threat has passed.
Emergency services in El Salvador say there are no immediate reports of damage nationally.
The 'quake came as category 2 Hurricane Otto tore across the Caribbean coasts of Nicaragua and Costa Rica. It hit land near the southeastern shores of Nicaragua after thousands had been evacuated from vulnerable areas.