Eto'o could face 10-year prison sentence
Comments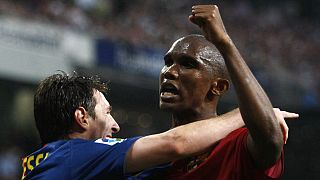 Spanish prosecutors are seeking a prison term of more than 10 years for former Chelsea striker Samuel Eto'o for alleged tax crimes committed when he played for Barcelona.
The 35-year-old, who played 198 times for the Blaugranas between 2004 and 2009, allegedly set up front companies to avoid paying taxes before leaving for Inter Milan.
The prosecutors insist Eto'o should pay approximately 14 million euros and are seeking the same punishment for the player's representative at the time, Jose Maria Mesalles Mata.
The news comes a day after Spanish prosecutors recommended a two-year jail sentence be given to Neymar for his part in a corruption case. Barcelona team-mate Lionel Messi was convicted in July this year for tax fraud and was ordered to pay €1.7m in fines.
Samuel Eto'o is facing ten-and-a-half years in prison and a £12million fine after being accused of tax evasion whilst at Barcelona!!! pic.twitter.com/TFKLcKTh5F

— Team FA (@TeamFA) November 24, 2016