Car bomb blast kills two in southern Turkish city of Adana
Comments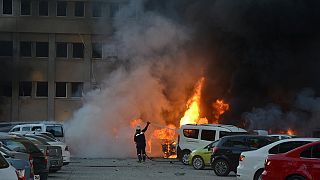 A car bomb attack in Turkey has killed at least two people and wounded more than 30 others in the southern city of Adana.
Footage from the scene showed vehicles ablaze in a car park outside the governors office. The force of the blast also caused widespread damage to buildings.
Located near to Turkey's Mediterranean coast, Adana lies around 16 kilometres from the Incirlik Air Base, which has been used by US forces to launch strikes against ISIL targets in the region.
In March, Washington ordered its military personnel and diplomats out of Adana and two other provinces in Turkey because of security concerns.
While there has been no immediate claim of responsibility for the bomb blast, Turkey has been hit by a string of ISIL and PKK terror attacks over the past year.